"Walk around where nobody ever walked there. Do what no one has done before. Put your own footprints and do not step on the footprints of others because you will not let brand" …
Just as it states the previous sentence, You must build a brand based or on the work of others, but must be unique. Brands are very important for any company, a venture without branding fails to generate the impact that a company with branding and communication strategies of value propositions. That is why to have powerful brands in our endeavors we need a name that represents what the company sells, which is the company, its business, core business, and where possible to communicate and build links with the consumer.
Furthermore in order to select a name that is compatible and available on the web you should try to avoid names similar to well-known companies or even companies that do not have as high top of mind but they certainly have more time on the web for which can later hinder the SEO positioning your company, creating brand confusion or even losing potential consumers.
Tools for choosing a business name
An important element to keep in mind when going to choose the name of a company is to check that it is convenient to develop a name online marketing strategy, we must not forget that the Internet is currently one of the pillars for the success of any business .
Here I share a list of 12 web tools you are going to be useful for choosing the perfect name for your business, entrepreneurship, startup or business taking into account the availability of domains and trends on the web:
In my opinion it is the best user interface and that better and offers greater choice, plus it's free.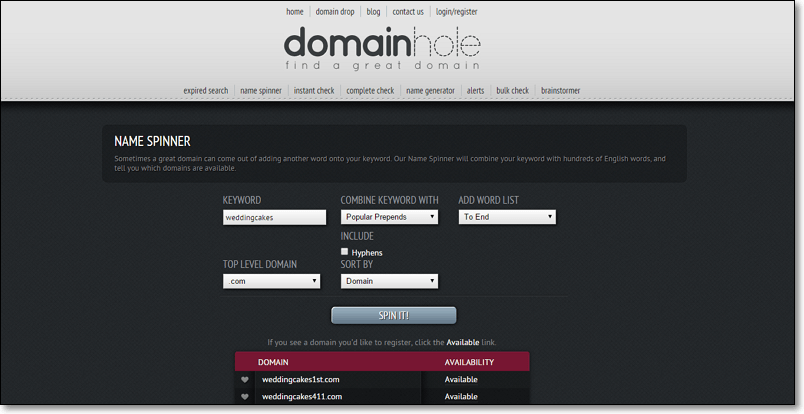 With this tool, you can find free domain names related to the most searched terms on Google. Very convenient to detect interesting business opportunities. (Only in Spanish)
Allows custom combinations of search
This app lets you find names as the trending topics on Twitter. (Only in Spanish)
to analyze information Page Rank
allows you to save searches
analyzes domain registration information
allows you to create a web page and register a domain
Web page specialized in domain names and trademarks of 4 characters
Simply enter a few keywords related to your business and see the domain names available.Moreover, it also generates a list of suggestions and different combinations of keywords to choose the most suitable for your company name.
It is a powerful tool created by Google to find common trends and information searches through your browser. If you choose a name with large volumes of searches, you can position yourself better.